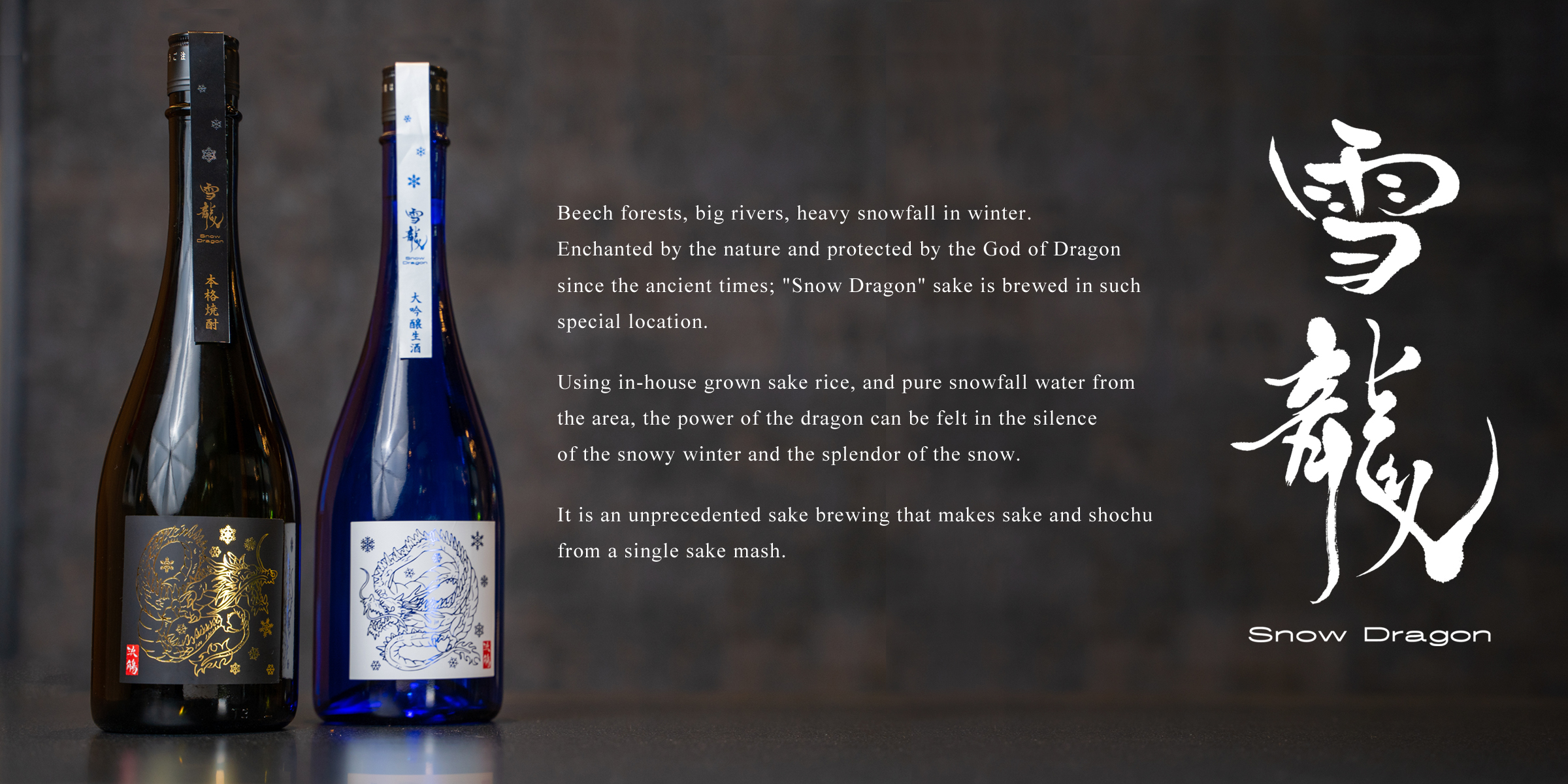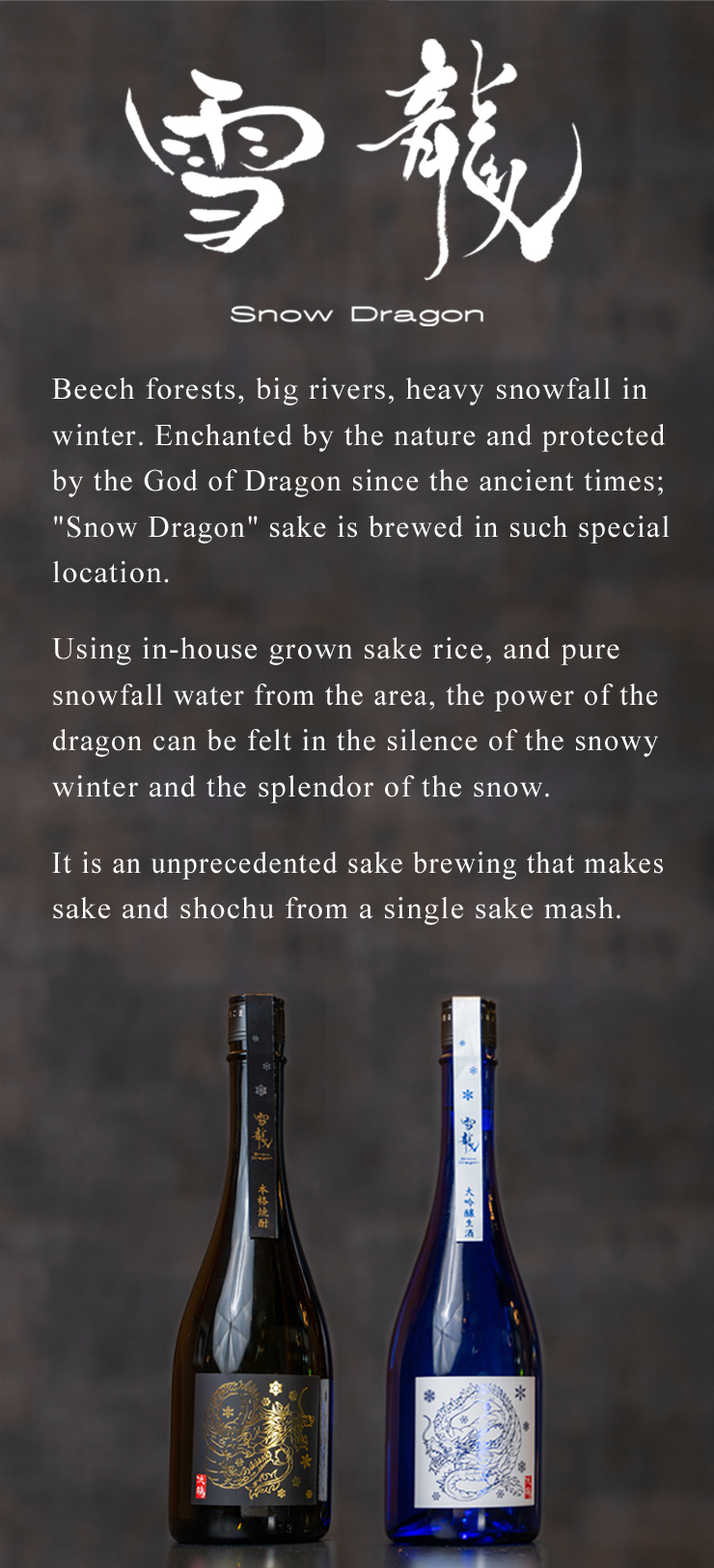 Special Daiginjo
Daiginjo can be fine tuned to the sake of our vision by adding sake-addictive alcohol. The alcohol used in our daiginjo is specially brewed in-house for snow dragon in order to produce a sake that has an elegant aroma and a balanced sake.


Water
Using the water of the Tadami River that originates from Oze; the water passes through a beech forest and collects the melted snow in the winter, making the water rich in minerals.

Sake Rice
Rice grown in-house on our own field Fukushima's origin sake rice Yume no Kaori
Yume no Kaori took approximately 10 year to develop, and is a hybrid of Hattan Nishiki No.1 and Dewa Sansan. It has a large rice grain, as well as a large shinpaku; it's good water absorption character making it easy to dissolve in mash, ideal for making sake.


Exclusive Yeast
Using our own exclusive yeast that provides an elegant aroma and refreshing flavor. It encapsulates the silver desolate world as the snow falls.

Unique Brewing Technique
Our sake and rice shochu are made using the exact same ingredient and exact same method, up until the distillation of the rice shochu. This is the secret to making two different alcohol at the same time in our small brewery.
Our Commitment to Sake
Drip separation uses only gravity to separate the sake from the mash, without applying any external pressure. It takes time and effort, but it produces the finest sake with the purest flavor. With the cold winter, it is possible to maintain the high quality of the sake and ship them overseas. Enjoy this seasonal luxury that is only available at this time of year.
Our Commitment to Rice Shochu
Only by using a small distiller with vacuum technology, Snow Dragon's Shochu is distilled at a low temperature of 30 degrees with low pressure. The resulting rich shochu is full of aroma and without any impure flavor.

Label Design
Illustrated by Rio Nakano, a painter from Okuaizu who specializes in delicate strokes. He drew a novel and powerful dragon with gorgeous snowflakes. The snowflakes dance around the glaring dragon, illustrating the legend of the Okuaizu dragon in a fantasy world view.
| Snow Dragon | Daiginjo Nama Sake | Honkaku Shochu |
| --- | --- | --- |
| Item | Sake | Shochu |
| Size | 720ml | 720ml |
| Ingredients | Rice (Grown in Tadami) , Rice-Yeast (Cultured in Tadami), Sake-addictive alcohol (Distilled In-House) | Rice (Grown in Tadami) , Rice-Yeast (Cultured in Tadami) |
| Rice | Yume-no-Kaori | Yume-no-Kaori |
| Alcholole | 15% | 25% |
| Polishing rate | 40% | − |
| Yeast | Fukushima Originated Yeast | Fukushima Originated Yeast |
| Storage | Refrigerate | Room Temperature, Avoid Direct Sunlight |
| Product features | Adding the Snow Dragon Rice Shochu back into the sake mash, enhancing the already aroma rich sake even more, and the resulting Daijinjo is one full of elegant and fruity aroma. Using only gravity and time to separate the sake from the mash, only the best part is extracted into our Snow Dragon Sake. The well balanced acidity and sweetness, a crisp aftertaste, making it very enjoyable when paired with any food. A crystal-like transparent yet strong flavour, is the essence of Snow Dragon. | Vacuum-Distilled at low temperature using the same mash as Snow Dragon Sake, our Rice Shochu has an elegant aroma and clean aftertaste. With a ginjo-ka just as smooth and sweet as Sake and a crisp taste, it can easily be enjoyed with food. Depending on your mood and time of day, you can enjoy our Rice Shochu by adding ice, water or soda water. |
| Vegan certified | ○ | ○ |
Note) This product will be sold in Hong Kong. Not sold in Japan. Please contact us from the inquiry form for details.